How to Commit to Homeschool
How to commit to homeschool is a common concern. Commitment? How hard can it be to homeschool? Can I really do this? Will I be able to teach the kids all they need to know? We all start out with those thoughts.  Over 20 years ago, my husband and I decided to face those questions. Before we were married and before we had children we wanted to know what educational path we were going to take for our children.  We made the decision to actively look in to the homeschooling.
In my early teens, I had made a commitment to the Lord to be a teacher and had gone to college for just that purpose. However, as I grew older I felt that I had failed in that commitment because I was not teaching in the educational system. I soon realized as my husband and I were traveling home from our very first homeschool convention, where we were exploring the educational materials available for homeschooling, that I was getting ready to fulfill that commitment. The Lord was giving us our very own classroom of students! I was thrilled to see how the Lord working in my life by laying all the pieces together for what he impressed upon my heart as a young person.  From that day on I realized that I could commit to homeschool because the Lord was going to be there each and every day.
Keeping the Lord first every day to commit to homeschool
So on to researching and preparing for our homeschool commitment.  What do my kids need to know? Yikes! I had absolutely no clue. Yet I knew they needed to learn to walk, talk and mind their manners. That was all a natural process to teach my children.  However, academics? How was I to know? My husband and I dove into the convention bag of brochures and catalogs. My husband began to research and make calls and ask questions.
We finally narrowed our list.  My husband scheduled some trips to visit some places to see if their curriculum was going to be a good fit for our goals. You see, we were looking for a curriculum base that we could trust to give our kids the structure and academic base with the highest quality without us having to take the time to pull that all together. We wanted time to focus on our children's interests after academics.
Curriculum choices were overwhelming
While our first trip out to see a curriculum didn't go well we didn't give up.  We called another and while we couldn't visit right away, they sent someone out to visit us with a complete display.  The nicest gentlemen came and set up a complete display in our home so that we could browse the curriculum and make an informed decision. We invited several of our friends to come view the display. We were so impressed! That day, to us, it was more than a curriculum. We were looking at the company and how they had a genuine care for our homeschool and us.  We ordered the complete package then and there.
A few months later we had the opportunity to go a visit the publisher for our curriculum. They rolled out the red carpet and welcomed us. It was an awesome experience that my husband and I have never forgotten.
Little did they know back then that after 20 years, and actually several years into our journey, we would begin to represent them and share the curriculum we grew to appreciate more and more every year we continued on our education at home.
Friends and family doubted our commitment
We have now completed the homeschooling our children. While there were family members and friends who doubted our commitment would last to the final, we are thrilled to be able to say the Lord saw us through the good times and the rough times. We committed to one day at a time and one year at a time. We prayed through our homeschool journey and thank Him for the stamina and patience to see it all the way through. Our children are grown now and doing absolutely wonderful in their adult lives. They are working through their own life challenges now dealing with adulthood with skills they learned throughout their childhood. We are so proud of each of them as they think through each decision they face along life's journey.
Homeschool Mom and Dad let me just encourage you that you can homeschool if that is your desire and choice for your children. Take it one day at a time and love and enjoy every minute. You can do this!
Philippians 4:13 " I can do all things through Christ which strengtheneth me."
What are your commitment goals? Share with me in the comments here. I would love to be an encouragement to you.
Here is another post sharing our choice curriculum – 7 Reasons Distance Learning Works for our Homeschool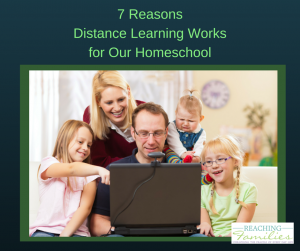 Additional resources that I enjoyed along the way – Homeschool Resources