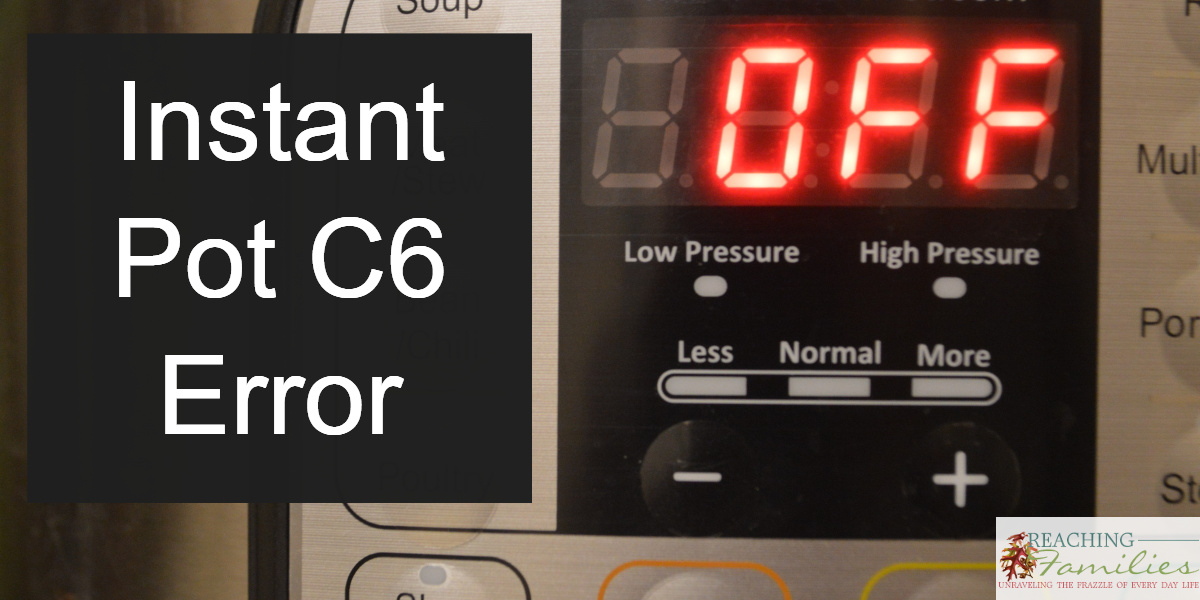 OH NO!!! What is an Instant Pot C6 Error? Why is my Instant Pot blinking lights with a C6 error in the window? Not now!!! I am in the middle of cooking and I am not one of those who has multiple Instant Pots in my kitchen. I grab the instruction book and look for troubleshooting. Oh No! It says to contact customer service.  Ok, I begin to think. What did I do before the Instant Pot?
I am absolutely frazzled because this was not in the plans for this meal. I can do this, after all, I have only had an Instant Pot for about 2 years. Surely I can remember how to cook without it.
Blinking C6 Error
When plans go awry, we must improvise, which is exactly what I did with that meal. I was simply trying to put potatoes in my Instant Pot for some quick steam potatoes to go along with some nice steak that my husband was cooking. I got the job done on the stove. It did take a little longer but it was ok as it gave me time to do a little more research on what the C6 Error was on my Instant Pot. I immediately went to get one in my cart to repurchase as I was not going to be without one. I was too used to having it now.
Researching for Help
In my research, I did find there was a great step-by-step post on what to do. Finally, something I could understand and work with and all the links were there and included. So if you are experiencing the dreaded c6 error, then check this out for step by step instructions. Evidently, it was a bad pressure sensor. So, I followed these instructions on this post over at Honest and Truly and then I sat back and waited. Within 3 business days, I had a shipping notice that my  NEW V3 Instant Pot was on the way.
So, I dumped my cart where I was ready to repurchase another unit and added some Instant Pot Mitts and an Aozita Steamer Basket Rack Set with Removeable Dividers to my cart.
I am now back up and running with my V3 Instant Pot!
It is it the little things that unravel the frazzle in my house.  What has unraveled your frazzle this week?