My desire is to share our homeschool journey here as well as encouraging those still on the journey.  Over the last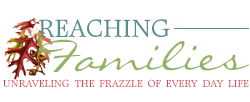 20 years as we have homeschooled our children we have been on many adventures. I hope to share some of those adventures as time permits. I am a homeschool mom of 4 wonderful children who have
grown up on me and are now seeking what the Lord has for them in their adult lives. Each one is different and seeking paths that work for them and we are very proud of each one. During our journey my husband and I have written articles at different stages to try to be a blessing to those in the journey along side us.
As we seek to "Unravel the Frazzle" in our home school, we much first seek the Lord and His wisdom. Only through His direction will we succeed as we seek to educate our children. Next, it is a team effort that includes husband and wife both in the journey. If you are reading this and are single, please know that it is still a team effort with your extended family to help you. Your spouse and extended family will be your greatest resources as you move along the journey.
In this first post I want to share an original post I made many years ago when I was blogging and didn't realize it.
Next year are you planning yet??
The more we plan now for next year the less we will have to worry about this summer. Make your summer break a real break. Especially for the teacher. Don't have constant school for teacher, when the student is on break. You too should be on break. Grant it. There are teacher work-days, but let's not make them work-weeks. That can cause burn out real FAST.
Things we have done to prepare. While waiting on the children to finish assigned seat work I usually concentrate on something pertaining to school rather than getting side tracked with something else. I plan the next two weeks of work, read up on material to make sure I am familiar with the lessons coming up then when all of the current lesson plans are up to date I work on the next years plans. First, I start with my calendar and plan my 180 days. I decide when we will start school, what days we will take off and what day will be the last day of school. After that is decided, I then have a school year to work toward.
Needs vs. Wants
We then sit down and look at the curriculum that is out there for us to choose from. We analyze the children and where they are academically to make sure we are on track. Once that is done, we begin to make our list of Curriculum Needs and Wants. Notice NEEDs first and Wants second.
Needs would be all the basics. Basics in my opinion are the 3 R's plus some. You decide. My Definition of Needs and your definition may be different. But start with your definition of needs then list extras that would be considered wants. Remember you can get some good buys on wants, used and at the curriculum fair. If most of you are like me, you are ready for this year to be finished. Don't let the hum-bugs get you down start planning for next year and let your child look at the catalogs with you. They are interested in getting new books too. They most likely will forget about them over the summer break, so it will still be new to them when you begin next year. Right now is the time of year we need to renew our spirit and work extra hard to make things exciting.
Copyright © January 1998 By Eujeana Chism
You can find more articles from the early part of our journey at this Link Chism Articles

I hope to continue what I started many years ago here as time allows and pay it forward to other homeschool families on their journey.
Blessings!
Eujeana – Veteran Homeschool Mom
Philippians 4:4
"Rejoice in the Lord always; and again I say Rejoice."