Writing Utensils are almost a thing of the past!
Pens are so hard to come by in our house. It seems like we have a million of them; yet, I can never find one I like when I need it. I am picky about what I write with even just to jot a note down.
So many pens to choose
I use writing utensils generally because the ink and ball flow smooth and quickly. Usually when I am writing on real paper, I am in a hurry; so I need it quick and readable.  If I am marking in a book or labeling something like a file folder, then I like to use a pencil. Each person in my family likes certain types of writing utensils. Unfortunately, we don't all like the same kind. Therefore, we have lots of pens and pencils everywhere but never the right one when we need it.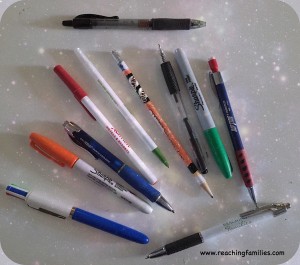 We like
It is the little things that unravel the frazzle.
When you need a writing utensil and can't find the right one do you get frazzled? What kind is your favorite?