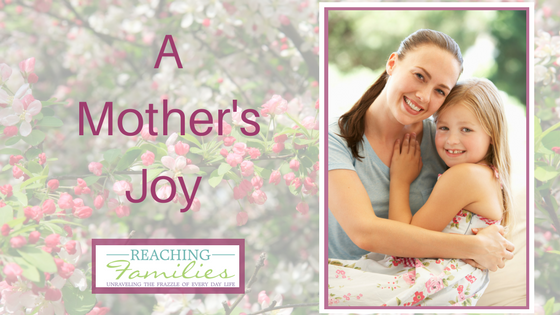 What is a mother's joy? My children are my joy! As I have watched them become adults and begin their adult journey in life, my heart swells with pride. They will always be children in my eyes, yet as adults, they are paving their way in life as they each settle into making their own decisions and home into a comfortable place of warmth and family.
My Children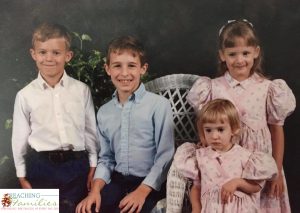 A Warm Heart
Our firstborn moved to the northeast where he had always dreamed of living. He is a very independent young man. As he worked toward that move and the journey before him, my mother's heart was crying inside, longing for my children to all stay close. I knew though that eventually that would not be the case. He has been there now for several years and he has made a home there that he loves. When he calls and shares the fun and exciting adventures he has had, it warms this mother's heart to know he is safe and happy. We do get to see him often and I am so grateful he makes his way home regularly.
My first child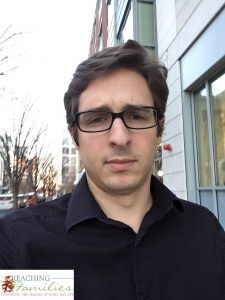 Heart Full of Joy
Our next child, another son, married a few years ago. He is happy-go-lucky and can do anything with his hands that he sets his mind to do.  One day he added our daughter-in-law to our family and it seems now she has always been a part. They blessed us with our first grandbaby who is growing way too fast. We are so thankful to have them live not far from us. We love to get to see them often and eat meals and spend time with them. Oh, and let's not forget the joy of getting to babysit every so often too! We love to have that special time with our grandbaby. My heart is full of joy!
My second child and his family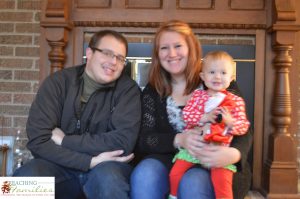 Heart Filled with Happiness
Then comes our first daughter who has grown into a beautiful young woman.  As with all girls, we have seen her tears, her joy, and her tender heart. She has found the perfect guy to complete her. As she shows her happiness, they are planning their future together.  I love it when she calls me just to say "Hi Mom". Her joyful spirit is contagious. She is our creative child and our shopper. It is so fun to see her set up housekeeping and work toward her future with her soulmate. My heart is filled with happiness to know she is happy.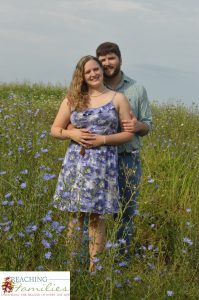 My third child and her guy
A Blessed Heart
Our youngest, also a daughter, has been our most independent child. She is a perfectionist, strong-willed, independent, and tenderhearted all wrapped up in one package. Doing the right thing and doing it completely is important to her. While she is small in stature, don't challenge her because she will win. I am thankful for all these traits because as she is planning for her future with her soulmate. She too will be moving to the southwest away from home. I am thankful for her strong will that she can use to stand firm in her beliefs and her desires. Her independence will serve her well as she moves so far from home.  She has found a young man who loves her dearly and together they will make a home. My heart is blessed.
My fourth child and her husband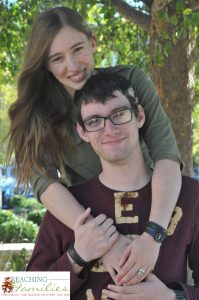 Next Steps for Mom?
This mom has had to learn that as each child entered into his adult years, she has had to step back and stop managing their lives. Now is time for advising. Waiting to advise only when asked is the key and sometimes hard to accomplish. Thankfully my children have and are learning to be patient with mom as I move forward into this phase of life. Watching them grow in this area, deal with others who see them still as children and respectfully letting them know they are no longer a child and do make their own decisions in life and that mom and dad no longer make decisions for them is satisfying. They have already learned they will not be run over in life and they will stand firm on their decisions. I am so thankful!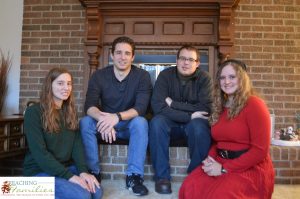 A mother's joy is loving her children through all. As I have helped my children in one way or another set up housekeeping, it is so fun to watch them take the things that we did in our home as they grew up with them. Bringing this mother joy is simply the happiness of her children. As a mother, I pray daily for each of my children. I pray for their happiness, their safety, and their health. Resting in the Lord to care for each of them daily.
"Therefore turn thou to thy God: keep mercy and judgment and wait on thy God continually."
Hosea 12:6
Happy Mother's Day Every Day!