Why do we have such LONG Homeschool days?
Long homeschool days can be daunting and frustrating. Homeschool moms ask me about how much time they should spend on each subject during the homeschool day.  I hear homeschool moms say, "My day is so LONG. How do I get done at noon?" Remember it is not about getting done but about learning. However, we do need to schedule time so it is well spent.
Disciplining ourselves to follow a schedule and stick to it is key.  Here is a sample of "how to schedule" that I used. Sample Schedule. I recommend a great resource called Manager of the Home by Terri Maxwell.  She has written several others as well.
Suggested times for scheduling each subject are listed here.
Elementary school has the potential of having 8 subjects per day and High School has less but there more time involved per subject.
Bible 15 – 30 min. (3- 4 times a week) Personally we made this more of a devotional time and gave credit for participation. We had other activities in Bible via our church, so we adjusted memory work to what was going on in church.
Math – 50 min. (morning is best for fresh, open minds)
English – 30 min. ( Give writing assignments a due date.  Maybe dedicate a entire 30 min time for work on writings on a specific day or dedicate 10 mins of the 30 mins to the essay til complete)
Reading – 50 min.
Spelling – 15 min.
Handwriting- 15 min. (3-4 times a week)
History – 30 – 45 min.
Science – 30 – 45 min.
PE – Once a week
Art – Once a week (note some craft ideas are within the subjects so utilize those ideas too)
Music – Instrument, choir, etc. Weekly lesson with daily practice up to 30 mins depending on the instrument. Sometimes 15 minutes is plenty of daily practice.

These are suggested time allotments per subject.
As you develop your schedule, don't forget to incorporate chores and breaks in the schedule as well. As I speak with homeschool parents, they tell me "but I want to be done by noon". That is great, but are you remembering that doing school work straight through from 8 – 12 can really be daunting and draining on your child? Do you really want to work on your bills or your checkbook for 4 hours straight? I sure don't. So incorporate other activities and maybe set your goal to be done around 2 pm.
Here is a sample schedule using the above times.  Also because I love BJU Press Distance Learning, I always had a "faculty" at my finger tips to help me in lesson presentation so I could concentrate on keeping school going and flowing smoothly. I didn't have to worry about studying to be prepared to present. This gave me so much more time in my day.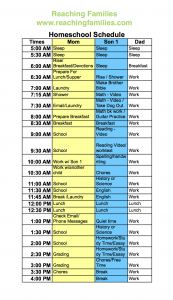 Time and scheduling is all relative to your child and your family.
Remember to teach a lesson so your child can learn the lesson. If it takes several days on one lesson, that is ok, simply use the time allotted to teach each subject as you have scheduled. Set some goals and set up the schedule. Then realize that is takes a good three weeks to set the routine. During those three weeks don't let interruptions get in the way.  Protect those three weeks and tweak the schedule as needed but try your best to stick to the schedule and it will smooth out.
Just begin each day during the subject's time where you left off the previous day. Soon the children will start getting done in the time allotted and you will be able to cut back at that point with the chocolate and caffeine helping you through the first few weeks. You can do this! My go to verse was and still is Philippians 4;13.
Here are some Time Saving Tools to Rock your Homeschool Schedule too.  Would you like to know more about BJU Press Distance Learning? Ask me in the comments below or search here on my site for more.